Altera DE1 Board Resources for Students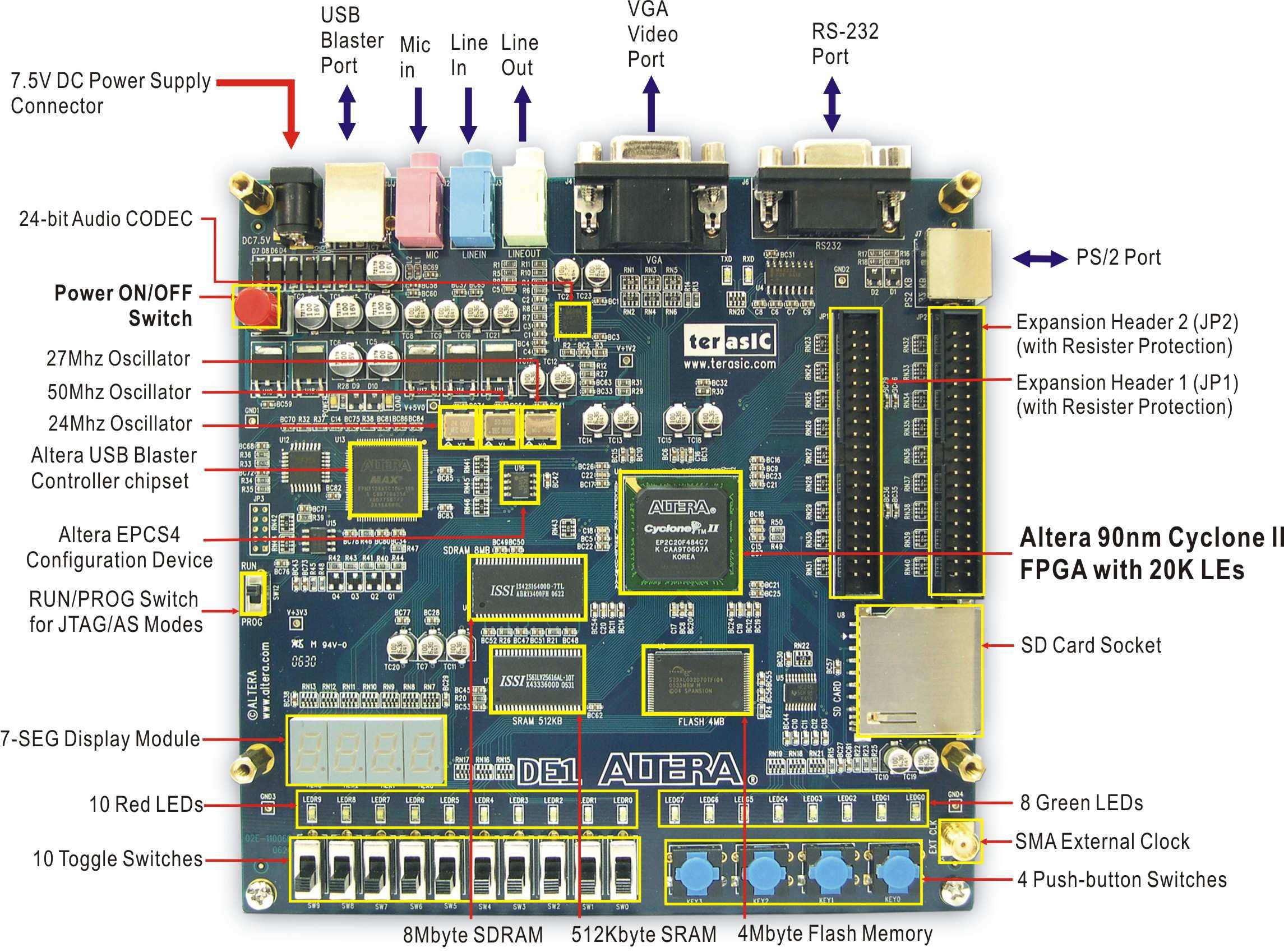 click DE1 image above to view larger image
DE1 Design Examples

Rapid Prototyping of Digital Systems Quartus SOPC Edition now available from Springer Publishing ISBN 978-0-387-72670-0. Source code and documentation can be found in the book and the book's DE1 design files are on the DVD.

Available in Rapid Prototyping of Digital Systems: A complete NIOS II DE1 hardware and software tutorial – develops a Nios II hardware design and runs a short C program on a NIOS II processor that blinks the LEDs and tests the DE1's memory and I/O. Uses SOPC Builder and the NIOS II IDE tool to download and run. A uClinux port for the DE1 is also included.
DE1 Hardware Datasheets & Resources
DE1 CDROM with manuals and design examples
Bus and Interfacing Resources
I2C Bus Summary
Serial, Parallel, and USB books & links
Software to monitor Serial, USB ports, and Ethernet Traffic on a PC
Interfacing external hardware
DE1 Software Resources
Introduction to Quartus
Quartus Reference Manual Vol. 1
Quartus Reference Manual Vol. 2
Quartus Reference Manual Vol. 3
NIOS II Processor Manuals
Ram Megafunction User Guide
Quartus Web Version Software


This web page is not associated with or sponsored by Altera Corporation. Altera is a trademark and service mark of Altera Corporation in the United States and other countries. Altera products are the intellectual property of Altera Corporation and are protected by copyright laws and one or more U.S. and foreign patents and patent applications.